Harmon.ie: SharePoint Outlook integration
I've been set an interesting task today in that I'm reviewing harmon.ie for Outlook at the behest of Harmon.ie [not that sponsorship ever stops me letting rip >;)) ]. This is a tool I use daily at work and train other users on, so let the write-up begin! :)
If you've heard of Harmon.ie for Outlook then you may be under the impression it's *just* a tool to bring emails into SharePoint. Actually I thought so too before I used it, but as I was to discover they went to town on the feature list. It's designed to be a complete replacement of browser based SharePoint for your knowledge workers so they can work entirely via Outlook if that's what they want. But I'm giving the game away, let's rewind a little…
So, what you get after install is a new panel within Outlook that looks like this;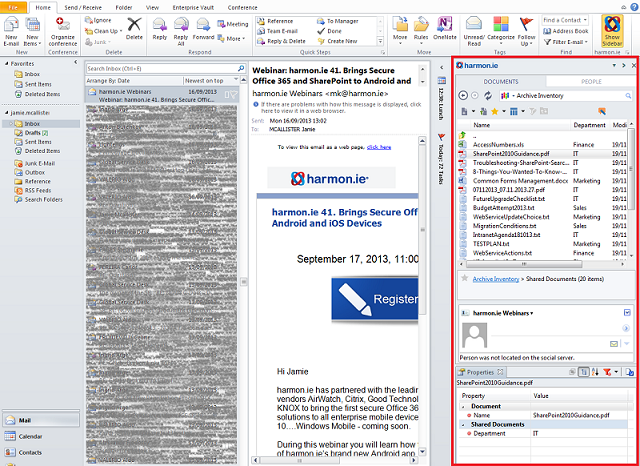 All the navigation aids (and more!) you'd get via SharePoint in Internet Explorer you get here condensed into the pane. Looking at the document tab first;
Finding Your Way Around
The main dropdown box allows you to add SharePoint sites of interest, and clicking on those shows the document libraries within. Favorites can be nice to jump to specific Views of interest, though there's also a specific button to change between Views. The navigation buttons give the typical 'get out of jail free card' of back and refresh. You can also filter what you see or use the search box with various scopes.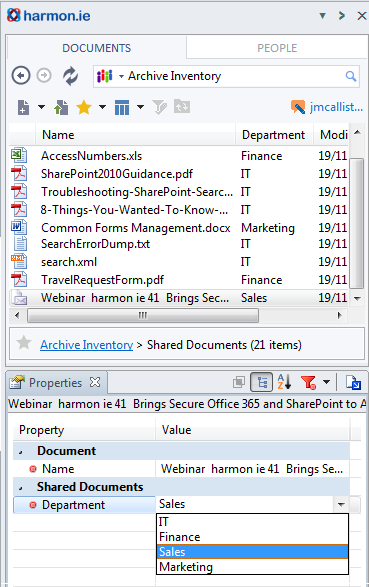 On the subject of Views, when I was assessing products I spoke to one other vendor whose tool didn't support Views. When they said Views were 'a special requirement' I almost fell off my chair. How can you produce a tool for SharePoint when you apparently don't understand the product at all!? Well, rest easy because Harmon.ie for Outlook supports Views good. For example showing grouped views was an unreachable goal for some of the other vendors but presents no problem here.
Drag and Drop Content
When you drag an email from your Outlook inbox you can drop it into the Harmon.ie panel to a specific library and the email and its attachments are added to SharePoint (or you can drag just the attachment if you wish). If the library has any required attributes to be filled in, you can do that in a form at the bottom of the pane as well as choosing the content type required. Buttons on the properties pane allow you to check-in (or out!), sort your properties, or search them. A red icon clearly shows which properties are mandatory.
One nice feature here is that there's a filter on the properties so you can choose to see only required item properties, only ones you can change, or everything. Cuts through the clutter I can tell you!
Features at a glance;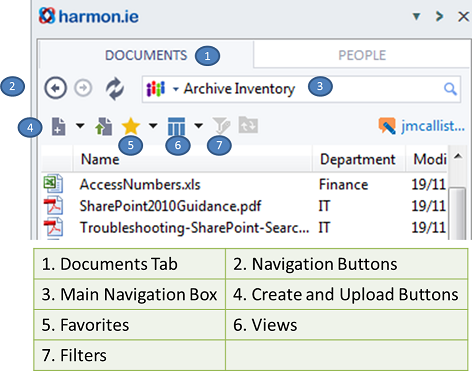 If you want to create new documents or folders, there's a button for that along with an upload button on the left side of favorites. Alas you can't create Document Sets via the tool so I still have to slink back to IE for that. Back to the email story, with Enterprise you can set your libraries up to capture all the key attributes of any emails you drag in; Date the email was sent (not just added to SharePoint), Original subject line (before all those 'r.e.' and 'fw' get appended to the subject), to and from addresses, cc etc. My users find this really useful for finding emails when they reach the inevitable point of having dragged thousands of them into a library. This is a requirement I've seen several times in my SharePoint career so it's nice to see it covered by the product.
Mutli-Upload
One team I support have to do a lot of multiple document uploads, and this is where Harmon.ie showed one of its strengths. Dragging multiple emails is possible, but as I hinted this isn't just about email! You can drag many files at once from your desktop or explorer into the Harmon.ie pane, regardless of them, not being in Outlook. The upload seems to perform a lot faster that Explorer View in SharePoint (maybe Harmon.ie have avoided WebDAV, I know not). The usual rule applies though; multiple uploads can leave you having to back-fill item properties after the event. Still it seems quite the time saver for the team.
In general then, I've started to see teams using Harmon.ie for Outlook as an Internet Explorer replacement when working with SharePoint. There is one feature though that drives my users crazy. :) One ethos of SharePoint is that we don't send email attachments anymore, just links to SharePoint content. This makes a lot of sense, reducing inbox sizes and ensuring a single authoritive copy of key information. Harmon.ie for Outlook faithfully supports this, and by default when installed if you try to email an attachment to someone, it pops up to ask if you'd like it to send a link instead and upload that attachment to SharePoint. Whenever a new team gets Harmon.ie the very first support call I get is about that pop-up box. I guess users aren't quite ready for the pure vision of links instead of attachments yet. There is a tickbox to turn the prompt off, but in their ire my users have to have it pointed out to them because they're so keen to get on the phone to chew me out. :D
Social Features
Not content with handling Documents the tool is also a little social widget. The People tab shows the folks you've had recent contact with, not just by email but for example if you have MS Lync it'll show you those contacts too. If you have it enabled in your org there's also presence so you can ping them an email or open up a chat window or call as you like.
Other socially flavored features allow you to rate and track documents, for example when you create a favorite you can tick to 'Follow Updates' and keep abreast of changes. This is a credible alternative to Alerts and way better than the SharePoint RSS feed. Ratings can be added and notes on content, much as you can through the browser.
Cost
Well, that's the real whistle stop tour of the features I use at work. There's even more available, but since they have a free version available to download I'll let you discover those yourself. ;) Price-wise, there is a free version (yes!!) which some of my colleagues have. It does a lot, and completely satisfies in some job roles. Harmon.ie being a commercial enterprise you'll be unsurprised to know there is a paid for version too. ;) The Enterprise version price is a subscription cost of 3.5 euro per user per month (in my part of the world anyway) and includes centralized deployment and control, Office Web Apps support, technical support, all the social features, and the automatic mapping of email properties to SharePoint columns (which we found essential for finding emails once we'd added a few thousand of them to SharePoint).
Now, Harmon.ie actually sponsored me to review the product and produce this post (though opinions are totally my own as usual). One thing they asked me to mention is there's also a mobile version of the product for Android (yay!), iPad/ iphone and Blackberry. Not so mysteriously, Windows Phone isn't mentioned on their mobile page; http://harmon.ie/Products/Mobile Can't imagine why… ;)
In summary then;
Pros

Viable alternative to browser based SharePoint for most knowledge workers
Comfortably sits within Outlook
Makes Multi-Uploads (and downloads) easy as PI
Truly feature packed
Stores emails into SharePoint in a useable way
Tools to manage Enterprise deployment and BYOD

Cons

Nag ads for the free version
Can't create Document Sets
Like any new tool the users take a few days to really get to grips with it


Review in a Tweet; "Viable alternative to browser based SharePoint for most knowledge workers".

Happy SharePointing